Wild White Shrimp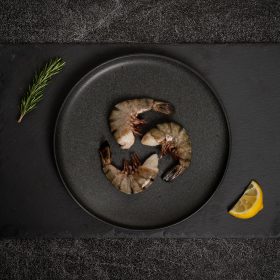 Servings

Prep Time

4

people

40

minutes-1 hour
Cook Time

Passive Time

8-10

minutes, tops! These shrimp cooks fast

1-3

hours
Servings

Prep Time

4

people

40

minutes-1 hour

Cook Time

Passive Time

8-10

minutes, tops! These shrimp cooks fast

1-3

hours
Servings

Prep Time

4

people

40

minutes-1 hour

Cook Time

Passive Time

8-10

minutes, tops! These shrimp cooks fast

1-3

hours

Servings

Prep Time

4

people

40

minutes-1 hour

Cook Time

Passive Time

8-10

minutes, tops! These shrimp cooks fast

1-3

hours
Combine all ingredients for Sake marinate in a bowl or food storge bag, add shrimp and put in Refrigerator for up to 3 hours.

Shortly before bringing shrimp out of the marinade, skewer all onions, peppers and pineapple, spray with non-stick spray liberally and season with garlic powder, salt and pepper. Set aside.

Preheat outdoor grill. While grill preheats, skewer shrimp.

Spray grill with nonstick spray. Start cooking vegetable skewers 5-6 minutes before shrimp skewers. Shrimp will take less cooking time.